Most of the time, I'm lauding how New Zealand gets things right that Canada messes up. The GST, no agricultural subsidies, low tariffs, parallel importation, open internal labour markets and lack of trade barriers between Otago and Wellington - NZ has a lot going for it.
But Canada has something important to teach us on refugees. And so I'm very happy that The Initiative will be hosting Dean Barry, Counsellor on Immigration with the High Commission of Canada in Canberra. He'll be with us next Tuesday evening to explain how Canada has been able to respond quickly to accommodate many more Syrian refugees than New Zealand has dreamed possible.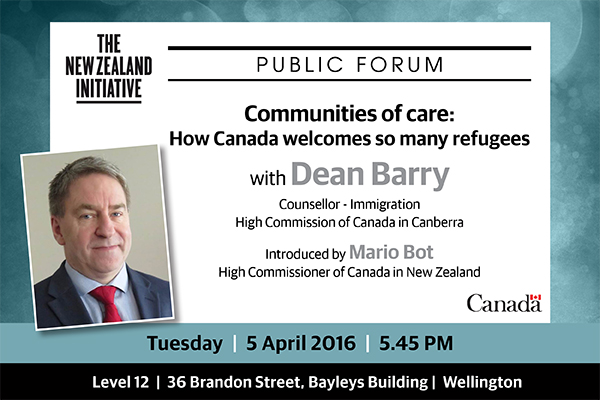 Canadian and New Zealand responses to last October's refugee crisis could not have been more different.
Kiwis who wanted to help Syrian refugees did admirable work in preparing for those refugees that New Zealand did accept. But they also had to expend a lot of effort to convince the government to allow more refugees to come. Even when community groups had homes ready to welcome refugees, they needed to convince the government to open the door to let them in.
While Kiwis wanting New Zealand to accept more refugees lobbied the government to increase the refugee quota, Canadian groups could simply raise funds to bring more refugees to Canada. And every time that Canadian groups proved they were able to support another refugee, the Canadian government opened the door. As of 8 March 2016, that door has opened
8,960 times
.
The New Zealand Initiative is very proud to host Dean Barry, Immigration Counsellor with the Canadian High Commission in Canberra. Barry will explain how the Canadian refugee sponsorship regime works, how refugees benefit from private sponsorship, and what lessons Canada has learned.

The Initiative believes in practical, evidence-based solutions to public policy problems. And the Canadians here just might be on to something. We hope you will join us.
About the speaker


Dean Barry has worked with the Government of Canada for 14 years, with positions at Industry Canada, Public Safety, the Canada Border Services Agency and Citizenship and Immigration Canada. He is currently posted to Canberra, Australia as Counsellor – Immigration at the High Commission of Canada. In this assignment, he is responsible for a wide range of reporting and liaison activities that cover a broad range of policy and operational areas, from managed migration to systems modernization to passport policy. He is accredited to the Commonwealth of Australia, New Zealand, Republic of the Fiji Islands, the Kingdom of Tonga, the Republic of Vanuatu and Samoa.